Easter Egg Hunt Gets Costlier as Shoppers Scramble to Stock Up
Mar 27, 2018
By: Megan Durisin, published on March 27, 2018
(Bloomberg) -- Egg prices in the U.S. have surged close to a record high, just in time for Easter.
The wholesale cost of a dozen eggs in the Midwest has more than doubled in the five weeks through March 23 to $2.71, U.S. Department of Agriculture data show. That's the highest since prices hit a record $2.77 in August 2015 amid a bird flu outbreak. This year, Easter is on April 1.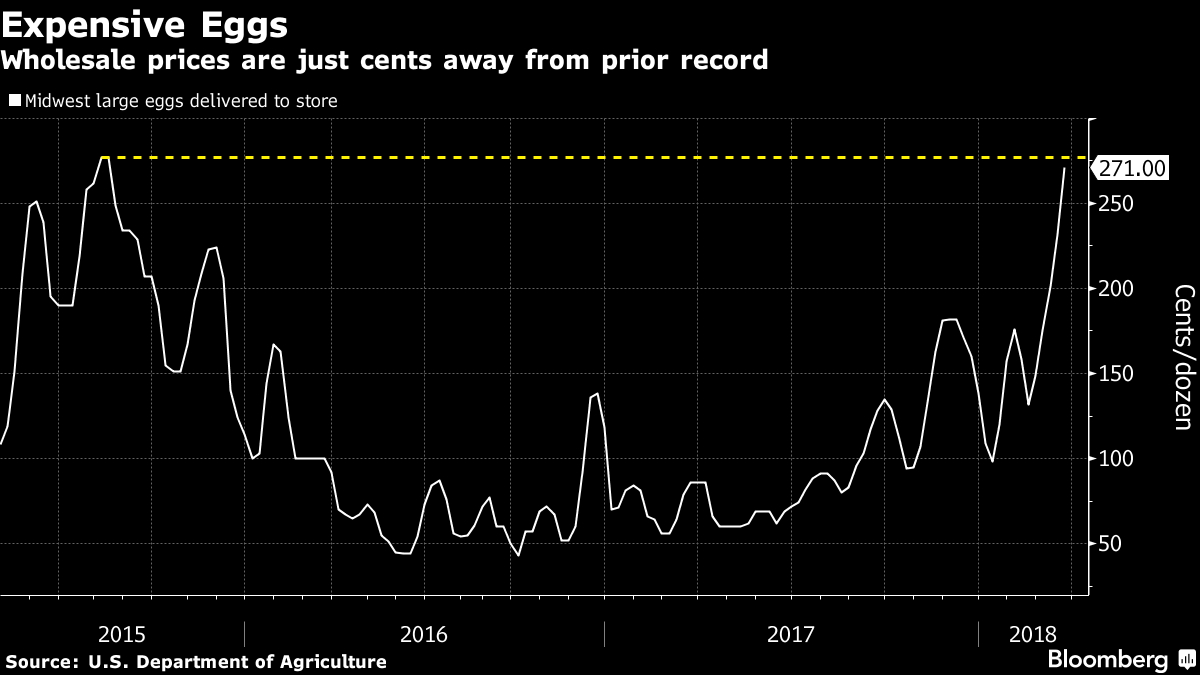 Demand for decorating and cooking typically rises before Easter, and adverse weather in the Northeast may have prompted shoppers to stock up on grocery staples, said an analyst at Advanced Economic Solutions in Omaha, Nebraska, said in a telephone interview.
"Easter is propelling demand, and it is earlier than last year," Vertical Group analysts including Heather Jones said in a report. "Despite the surge in egg prices, retailers are still using eggs as a loss leader to drive traffic in an aggressively competitive retail environment."
Retail prices have also rebounded from last year's slump. The cost at $1.80 a dozen is 37 percent higher than a year earlier, according to a spring surveyby the American Farm Bureau Federation.
The U.S. had 385.6 million laying hens on March 1, the most for that month in at least a decade, USDA data show. The large flock signals plenty of egg supplies ahead, Jones of Advanced Economic Solutions said. Omelettes can stay on the menu.
If you would like more information with this article, click on the following link: